Mar 27, 2019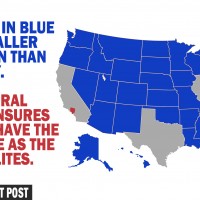 Take a look at the image above. This is the very reason we have an Electoral College.
Rather than produce a top-quality presidential candidate who loves America and respects the Constitution, Democrats are working on a way to circumvent the Electoral College, the method by which we have elected presidents of the United States since 1789. Article 2, Section 1 lays out the system. But like most other aspects of constitutional Rule of Law, leftists hold it in contempt.
As Governer Polis said… "I've long supported electing the president by who gets the most votes. It's a way to move towards direct election of the president."
Sorry, Governor, but you are woefully misinformed. "Direct" election of the president is exactly what we don't want. It wasn't a goal in the Constitution. Had we gone that way in 2016, Hillary Clinton would have become president on the strength of her vote totals based almost exclusively on a handful of major urban hubs. Certainly not a candidate representative of the whole nation.
Leftists would love a national popular vote for president. It would most assuredly give rise to greater voter fraud, further fracturing of the political system, and, despite leftist claims, reduced power of individual votes.
If anything, 2016 proves that we do need an Electoral College. Clinton almost had it locked up by campaigning in only a handful of urban areas — mostly the big blue vote buckets like LA, NYC, Chicago, and San Francisco.
None of this can be explained to leftists, though. They cannot win in the arena of ideas, so they want to change the rules of the game. So far, they have been very clever about exploiting the so-called problems of the Electoral College. The first thing to remember is that there is no problem with the Electoral College. Except if you are a Democrat who can only win by pitting segments of the nation against one another.
Something to think about anyway.


Are you awake Yet?
As a reader you deserve to know the truth behind the disasters America faces. If you want to learn more about what is going on in America then consider joining America's Great Awakening Newsletter. If you are not sure if our newsletter is a fit for you, please click the link below and sign up for our FREE newsletters. There is no obligation and requires no credit card to sign up. These newsletters are free and we encourage you to distribute to your friends and family. JOIN US TODAY
If you are already a member you can, sign in here.