Nov 1, 2015
The Debt Ceiling Doesn't Matter. Period!
Large numbers of very intelligent and very well paid people have been thinking about what happens if and when the US meets the debt ceiling and cannot therefore, legally at least, borrow any more money. Politicians are also thinking about this too. The reason is of course that the Federal government spends more each year than it takes in in taxes: thus the debt itself is continually growing.
The current national debt amount surpasses the $18 trillion debt ceiling they are trying to sell to the American people. In reality, the US federal government owes over $82 trillion, but our officials continue to report that the national debt is only at $18 trillion. And how do they manage to get away with it? By hiding outstanding liabilities from its reporting.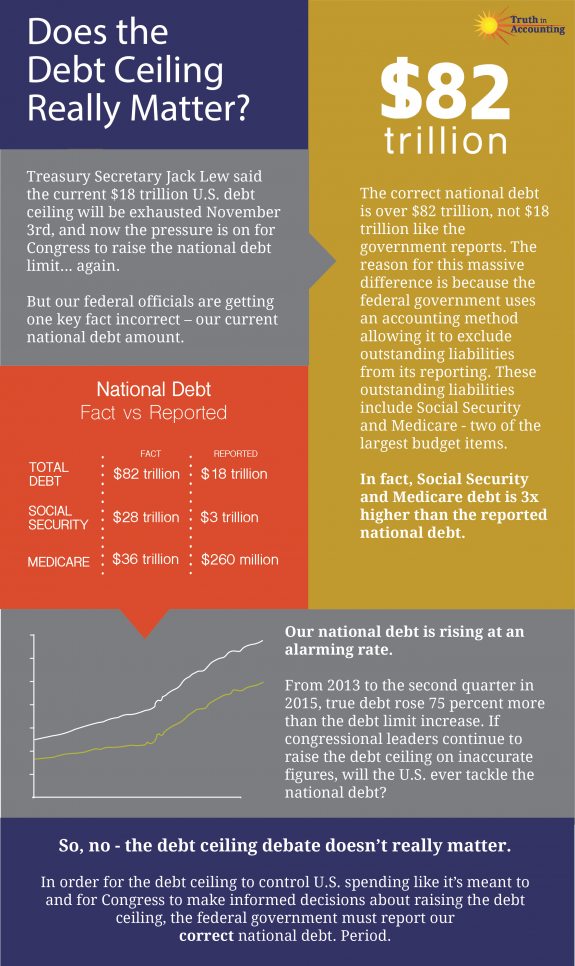 The debt ceiling debate should start with a reform on how officials calculate the national debt?
We can only keep using complicated bookkeeping maneuvers, or extraordinary measures, to acquire funds to meet its existing obligations for so long. Which by the way… those obligations include Social Security and Medicare benefits, military salaries, interest on the national debt and more.
Understand the we have raised the debt ceiling a total of 79 times. And the debt ceiling addresses debt, not spending
Keep in mind though… anything that we do is just an extraordinary measure to bide for more time. A total collapse is coming. Whether you want it to or not.
Are you awake Yet?
As a reader you deserve to know the truth behind the disasters America and the rest of the world faces. If you want to learn more about what is going on in America then consider joining America's Great Awakening Newsletter. These newsletters are free for a limited time.JOIN US TODAY
If you are already a member you can, sign in here.