Oct 22, 2015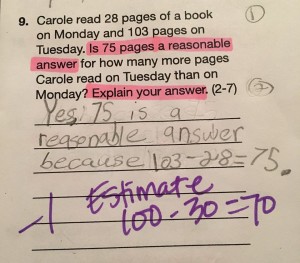 I can't not say anything. The complete insanity of this Common Core crap is killing me. Please explain to me in what CRAZY, BACKWARDS, MAKE BELIEVE WORLD this makes sense??
Math is FACT! Fact is 103 – 28 is ACTUALLY 75. As in actually. Factually. And yes, reasonably.
In this scary world of FAKE MATH, 75 is not the correct answer?! In order for the answer to be REASONABLE, we need to "estimate" and come up with the WRONG answer?!?!
This math belongs in the world of unicorns and leprechauns. Not in the real world…where numbers matter!
These are our future doctors that will be prescribing "reasonable" doses of medication, future architects that will design on "reasonable" measurements, and future engineers that will build on "reasonable" plans!
Home school is looking like the best options. But a change in our education system is absolutely necessary. We cannot build a future on this kind of thinking.
Please share this post if you agree!
Are you awake Yet?
As a reader you deserve to know the truth behind the disasters America and the rest of the world faces. If you want to learn more about what is going on in America then consider joining America's Great Awakening Newsletter. These newsletters are free for a limited time.JOIN US TODAY
If you are already a member you can, sign in here.