Learn Self-Defense While Discovering Authentic Japanese Martial Arts
Welcome To Budo Shingikan:
Home Of Bushin Ryu Aiki Bujutsu
Our martial art is more than simply an efficient method of self-defense. It is a form of Budo – a "martial way". Bushin Ryu is a Japanese martial art performed by blending with the motion of the attacker rather than opposing it head-on.

  Self-Defense, Self Discipline & Self Development  
Bushido (Way of the Warrior)
"The code of Bushido in which the Samurai lived by is the same code we live by. Our teachings come from the aids given to us through years of war and human conflict. They show us a better way of being using the best types of conflict resolution skills, and living lives of service to others, leading by example.

This is what a modern samurai is! It's living our fullest lives through the enlightening lessons of the past and finding value in being this type of person."
– Dedeuc D`Antonoli, Founder of Bushin Ryu Aiki Bujutsu
Dear Friend,
My name is
Dedeuc D`Antonoli
, Owner and Chief Instructor of our martial arts schools.
Martial Arts is about so much more than "fighting." It's about becoming a better you. It's about connecting to your inner-strength, and accomplishing goals you never thought you could. It's about respecting your body and mind.
Our Martial Arts System is an extremely effective tool for SELF DEVELOPMENT. We are helping people of all ages to live safer, healthier and happier lives. Whether you are looking for, PHYSICAL HEALTH, EMOTIONAL AND INTERNAL PEACE or whether just having CONFIDENCE of being able TO DEFEND YOURSELF, you can get it by joining our Dojo. We offer a supportive and cooperative learning experience.
You will get effective and integrated approach to your self-defense needs while LEARNING SELF-DEFENSE, GETTING FIT and INNER CONTROL.
Learn More About Bushin Ryu Aiki Bujutsu And How We Teach
Our school is the #1 place in Mesa, AZ to capture not only your spiritual side, but also exceed your physical goals and make them both serve you for a more satisfying and healthy life. If you haven't tried martial arts, then our program will provide the foundation you need to get on track with your life, regardless of your age or level of fitness.
It is through Bushin Ryu Aiki Bujutsu that former martial artists can regain and hone their skills while new practitioners can learn how to protect themselves and get in shape.
What make us so unique?
We study a martial system, rather than a single martial art. We believe that no single martial art can be comprehensive enough to really make a person confident in their self-defense abilities.
The path of Bushin Ryu is one of continual personal challenge – how can we be better people today than we were yesterday? Kaiso D'Antonoli, the rest of the teaching staff, and all the students at the Budo Shingikan are committed to helping people become the very best they can be.
We offer every potential new student the opportunity to come down and visit us and see the difference for themselves.
Dedeuc D`Antonoli
Dedeuc D`Antonoli
Owner and Chief Instructor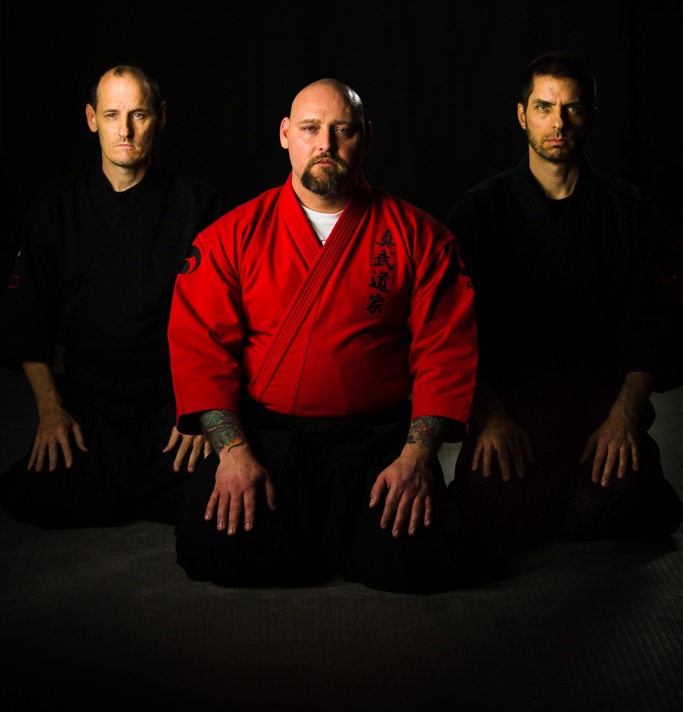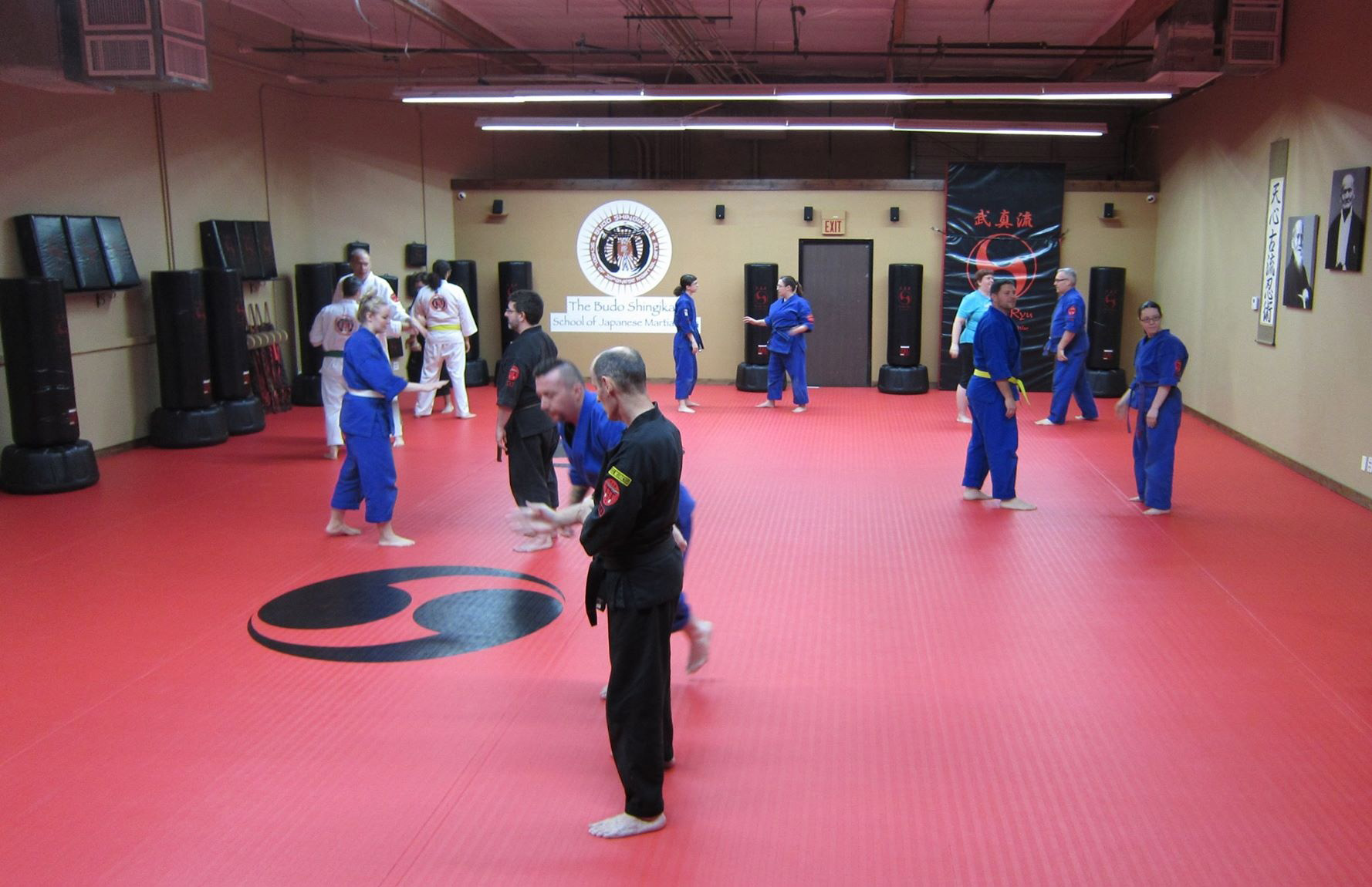 Our Classes Are Fun And Engaging.
Bushin Ryu Self-Defense Arizona offers a well rounded Martial Art System which offers the best self-defense instruction for men & women, in both ground and stand-up for the modern warrior. The benefits of the Self-Defense Arizona martial arts training program in general can go far beyond just learning combative skills.

SELF-DEFENSE ARIZONA BUILDS CONFIDENCE, BETTER ATTITUDE AND RELATIONSHIPS
Bushin Ryu Is Peaceful. Yet Extremely Powerful.
Bushin Ryu Aiki Bujutsu is a unique martial art that integrates body, mind and spirit. Age makes no difference.

It is graceful and powerful, it emphasizes peace and harmony over aggression and violence.
Self-Defense Against Weapons Including Knives.
In Bushin Ryu, you'll learn how to defend yourself against a variety of weapons, including knives and blunt objects. You'll also work with wooden practice swords (called a bokken), and short staffs (called jo)...

All in all it's a unique, fun, and versatile experience.
Our Martial System is designed to create positive changes in our lives and the lives of those around us. We strive to inspire more than the virtues in martial arts, we strive to render the aggressive aspects of martial arts unnecessary.
Inspiring!



Bushin Ryu classes will inspire you to reach higher than you think possible. Our dynamic instructors guide you through the intricacy and beauty of Japanese martial tradition – and in the process you will find yourself drawn into the learning experience along with your fellow students.
Challenging!



The Bushin Ryu curriculum requires you to demonstrate a wide range of martial technique in a variety of situations. You will find yourself challenged as you come to understand that true martial arts has little to do with punching and kicking. The subtle nature of internal structure combined with both gross and fine motor skill development requires you to devote your powers of concentration fully to what you are learning.
Holistic!



Bushin Ryu training is very different from a kickboxing workout. Training in the traditional Japanese martial arts involves both physical and mental dimensions. You will also find that working collaboratively with a partner changes the entire dynamic of the learning experience. Developing the skill of connecting to another person in the process of learning immerses students in a truly holistic training experience.
Safe Enviroment!



We view safety as the number one priority in martial arts training. In Bushin Ryu, we spend a great deal of time learning how to safely move and connect, whether one is in the role of "attacker" or "defender". The occasional bump or bruise is inevitable in martial training, but it is essential that students and instructors maintain a high degree of "situational awareness".
Our Classes Are Fun!



If training isn't fun, you won't last very long! We make every class a fun experience! The Budo Shingikan wins "Best Dojo of the Year" in Mesa each year because it truly is the most enjoyable place to train.
We Are A Family



We're a tight-knit group here. And our members and instructors are all about support and friendship. We provide the kind of environment that fosters friendship, encouragement, and motivation.

We think it's the reason we've been voted best martial arts school 6 years in a row.
The Budo Shingikan Dojo is not just a place to learn martial arts it is a place to build self-confidence, pride, and strength. My son, after yet another move (we are a military family), was having trouble adjusting. I immediately felt welcome as the team answered all my questions fully and quickly. Mrs. Shannon, called me as well prior to his first lesson. The amount of patience these instructors have with the students is amazing.
Dominique B.
Mesa, AZ
I could not be more happier. Before I found Budo Shingikan School of Japanese Martial Arts I spent the better part of 3 months searching for a place to start my martial arts training and get back into shape. Five years later, after joining Budo Shingikan, I am 50 years old and in the best shape of my life. Most importantly, I've learned how to defend myself in the process. Kaiso D'Antonoli is a great mentor and instructor. Honestly, you just have to come see for yourself.
Bruce R.
San Tan Valley, AZ
The experience that my son has gained in his martial arts training is amazing. The Budo Shingikan family is truly a family. Everyone is welcoming and loves training together. My son has been involved with this dojo for just about a year. He has learned so much and dedicated a project at school to his training at Budo Shingikan.
V.C.
Mesa, AZ
The dojo brings a sense of pride, dedication and passion. It's such a wonderful opportunity to learn from a true master of Japanese Martial Arts. All students are treated fairly. The students show geniue respect for the dojo; equally they all have fun. This is a great place to give your child(ren) an experience that builds character. This is not your run of the mill set up; its East Mesa's hidden gem.
Jacqueline M.
Mesa, AZ
Great place to train. Dedicated students, great teachers and a fun atmosphere to train in. No egos.
EJ S.
Gilbert, AZ
Frequently Asked Questions & Answers About
Bushin Ryu Aiki Bujutsu
What level of fitness is required for Martial Arts?
People come to us of all fitness levels. We get natural-born athletes, and we get people who have a harder time with athletic endeavors. However, everyone gets the same focus and attention.

If you're not in great shape, don't worry. Go at your own pace, and we'll do everything we can to help you learn each and every technique. Soon enough, your physical fitness will improve, and you'll be in better shape than ever!
Is Bushin Ryu Aiki Bujutsu violent?
No! Most self-defense techniques taught in martial arts is often thought of as violent. However, the philosophies behind our martial arts revolve around peace and harmony. The moves are more of a way to become connected with your attacker.

We teach diplomacy and friendship. However, if a violent situation ever arises in your life, you'll have powerful tools to defend yourself and your loved ones.
Is there a minimum and maximum age to train in the adult classes?
This is one of the great things about our martial arts. Everyone can join in on our classes. Training can be vigorous at times, so we start our adult program at the age of 12.

There is no age limit to train in Bushin Ryu. Obviously you need to have the physical capability to exercise at a reasonable pace but our martial arts classes are suitable to people of most ages.
How long does it take to get a Black Belt?
A similar question would be 'How long does it take to learn to play the piano?' Having said that, a student who trains two times per week on a regular basis can expect to earn a black belt in about five years.

Some very dedicated students who train more intensely may and have achieve Black Belt even sooner.
Are You Ready To Get Started & Join Our Awesome Martial Arts Classes?
Get 6 Weeks for only $69.00 and come see why our Dojo was voted best martial arts 6 years in a row.

Click on the get started now button to start your journey into martial arts. If you prefer to call us, we would be glad to talk with you. Call: (602) 574-6061.
4840 E. Jasmine Street, Suite 110, Mesa AZ 85205

(602) 574-6061