Mar 9, 2015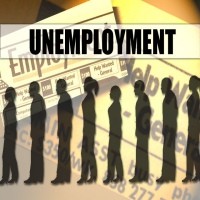 As our country and world slip further into the abyss of an economic slow down, the mainstream media only reports lies and propaganda. If we look at the reality of the job market the only jobs being created are, primarily, low wage, retail and service sector jobs. Not one of these job classes manufactures anything. How sustainable is an economy that simply shifts currency from a grocery store clerk, to a restaurant waiter or a nurse at the local hospital then back to the store clerk? This is merely a circle and the currency is trapped. Until someone steps in and creates a product that requires raw materials, from outside sources, and requires someone to sell what is manufactured, our economy can not and will not grow.
First question. How many people were fired or lost their job for other reasons, like store closings, bankruptcy? Can anyone say Radio Shack? Sure you can. Radio Shack filed for bankruptcy in February and is planning on closing most of it's stores. The remainder are being sold to Sprint and General Wireless.
Is that reported when the mainstream media begins screaming about 295k jobs created and unemployment dropping to 5.5%? Not a word. How many people stopped looking for work because they have been unemployed so long they have given up? Silence again. How people are working multiple part-time jobs and would actually like to have full time employment? Crickets.
Now, if we look at the holiday season from 2014, which is basically the last quarter, did we see a retail sector on fire with sales? Well, according to Reuters, holiday sales were down 8%. Not exactly the type of news to make a retailer going on a hiring spree.
Can someone please explain to me how, in a retail, service based economy with money moving in a circle, is anyone hiring when we see two pieces of economic news that state the exact opposite.
While this is going on the cheerleaders at CNN, CNBC and ALL the mainstream media are parroting the headline numbers of 295,000 "new jobs" and 5.5% unemployment. These clowns get their orders and read the tele-prompter and life is good for them. Bad actors that can not get a real job in an actual movie or commercials.
Pathetic.
Are you awake Yet?
As a reader you deserve to know the truth behind the disasters America and the rest of the world faces. If you want to learn more about what is going on in America then consider joining America's Great Awakening Newsletter. These newsletters are free and we encourage you to distribute to your friends and family.JOIN US TODAY
If you are already a member you can, sign in here.