Feb 10, 2015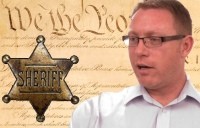 This Sheriff deserves a metal. All cops should carry the Constitution as a reminded of who they serve. There is hope for us yet.
A sheriff in New Mexico physically stopped US Marshals from enforcing Internal Revenue Service orders at a residential property, later calling on the IRS to halt a public auction of the premises until the tax-owing homeowner's get their day in court.
Hey US Marshals, stop doing the bidding of your master and start serving the public. The IRS is a lie. The income tax is a lie, "Why should they be able to take anything from you without due process? They're worse than the mafia."
How many people do you know of or have heard about that have lost their property… home or land, because of not paying property taxes? It occurs across the country on a daily basis. This is not only immoral and unethical, it is criminal and a violation of a person's civil rights. WHY?
Most every sale of property occurs without ANY Due Process… that is, there has been no court hearing, no judgment, no adjudication of all facts, and no consideration given for the actual laws regarding the tax in the first place. That is where this information come in. You now have a means to not only challenge your property taxes, but to have any lost property returned to you via the courts for violation of your rights and the law, to include damages.
It is a crime for any government office or any official to auction or otherwise sell in any way, private or business property of any individual WITHOUT FIRST HAVING DUE PROCESS OF LAW, to determine the cause of action and the recourse in law. The sale of any property outside this means is illegal, and all those involved with such a sale, including those purchasing said property, are personally liable for damages, and subject to criminal charges under Racketeering (RICO) laws, and for violation of civil and Due Process rights. All government officials have the "Greater Duty" to know the law and comply with it, and if you are involved with such an auction without Due Process for the owner, you are in breach of your fiduciary duty and you can be held personally liable by those harmed by this fraud. Any challenge to property taxation or property sale made by any citizen requires you to respond, point by point, and to "prove up" your position in law.
Are you awake Yet?
As a reader you deserve to know the truth behind the disasters America and the rest of the world faces. If you want to learn more about what is going on in America then consider joining America's Great Awakening Newsletter. These newsletters are free and we encourage you to distribute to your friends and family.JOIN US TODAY
If you are already a member you can, sign in here.