Aug 18, 2014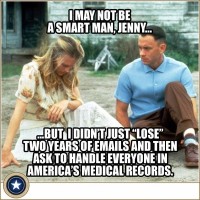 Our privacy rights have been under siege for a while and, with the passage of the Health Care Bill, the government has taken a huge leap forward in its quest to control us even more. They now have access all medical information once held in the confines of the doctor-patient relationship.
So, where does this leave those people who value their right to privacy and who, if we were given the option (which we are not) would opt out of this attack on our lives.
Although the vast majority of Americans oppose government intrusion in our private lives, the invasion will continue until an unknowing or disbelieving public sees the truth. Until then, if you want to keep your obesity rating to yourself, it's time for some medical self reliance.
Are you awake yet?